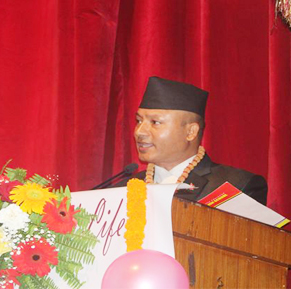 Message From Principal
"EDUCATION HAS SUCH INTANGIBLE STRENGTH THAT CONVERTS ALL THE FAULTS INTO THE TRUTH, DARK INTO THE LIGHT AND THE DEATH INTO THE IMMORTALITY"
Dear parents/guardians/well wishers,
I am glad to receive an opportunity to express my few words about Mahan Siddhartha and come in direct touch with parents, students, and all concerned stakeholders. In fact, it is a great pleasure for me to share few plans and policies of school adopted and is going to adopt for overall quality improvement as an assurance to parents and guardians and their trusts over MSHS ( 2)
MSHS ( 2) dedicates itself for quality circle, students' holistic development, and better result through continuous assessment system. Along with these words, planned out co-curricular activities and ECA would also add value to the quality. We would like to assure our parents and guardians on these basic standards. We provide our students not only quality education but also the appropriate manner and attitude of students which enrich them to live a quality life forever. We are still practicing to prepare such energetic and dynamic students in order to fulfill the contemporary needs of our Nation and global society.
I believe the active and natural involvement of parents, students and the school results the academic excellence. Our aim is to enable our students to face all possible shortcoming and challenges during their life span. Moreover, we have started 2 Management Faculty in nominal fee structure under the supervision of dedicated teaching faculties which enable the students of senior classes to gain permanent and behavioral learning through advanced method.
So, we would like to encourage you to join hand to hand to be together with us for the achievement of excellence in our precious society through education.
Thank you !

Go To Main Page